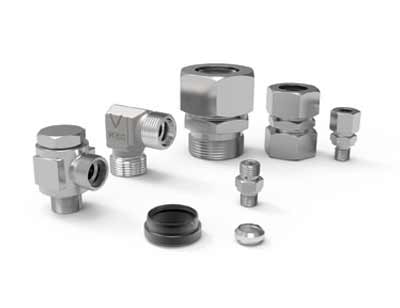 VOSS METRIC TUBE FITTINGS
Williams Fluidair is a leading supplier of DIN 2353 metric hydraulic tube fittings in Canada.Our product range includes fittings for 4mm to 42mm OD tubes with working pressures up to 800 bar.
Williams Fluidair is proud to be the Canadian distributor of VOSS metric tube fittings.
VOSS 24° tube fittings certified to ISO 8434-1 (DIN 2353) are suitable for virtually any mobile or stationary hydraulic application areas.
VOSS tube fittings are characterized by unmatched quality, further improved by the innovative VOSSCoat plating. VOSSCoat plating far exceeds the performance of competitors plating, even allowing these fittings to replace stainless steel fittings in some applications.
VOSS tube fittings allow for a variety of connection methods including the VRM cutting ring, the ES4 cutting ring with soft seal, the VOSSForm tube end forming system, BV10 flare adapters, 37° flare adapters, weld-on tube ends and hose fittings.
Voss Website
---
METRIC STAINLESS TUBE FITTINGS
For applications where stainless steel fittings are required, Williams Fluidair offers a complete line of ISO 8434-1 (DIN 2353) tube fittings in stainless steel grade 1.4571 (316Ti).
Made in Germany to the highest quality standards, these fittings are offered in sizes from 4mm to 42mm with connection threads to any North American or European standards.
These fittings offer superior performance and corrosion resistance for applications in:
- Chemical Plants and Pharmaceutical
- Water Processing Plants
- Shipbuilding
- Paper Mills
- Offshore Technology
- Food Processing
- Steel Mills & Other Metal Processing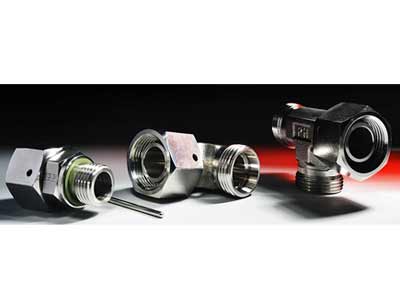 ---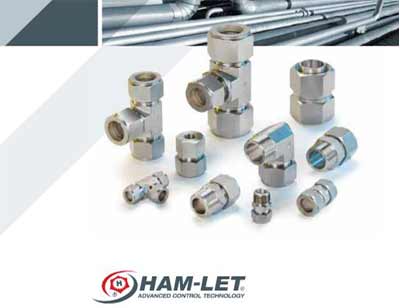 LET-LOK TUBE FITTINGS
LET-LOK tube fittings are double ferrule fittings for use in transport of liquids or gases in many applications.
LET-LOK tube fittings have been independently tested to be 100% interchangeable with other fittings of this type, and they have been approved by the world leading certification bodies.
LET-LOK tube fittings are available in 316SS or brass, to fit tube sizes from 2mm to 50mm and 1/16" to 2".
CRN numbers are available for all of the fitting styles.
Connection to all North American and European thread styles are available.
LET-LOK Website
---
INCH COMPRESSION TUBE FITTINGS
Compression fittings for inch-size tubing are manufactured in zinc plated steel as per SAE J514.
Tubes are connected using a nut and ferrule design and no flaring of the tube is required.
Available in sizes to fit 1/8" to 2" OD tubes.
Straight, elbow, tee and cross shapes are available. Connection by NPT, O-ring boss and JIC threads.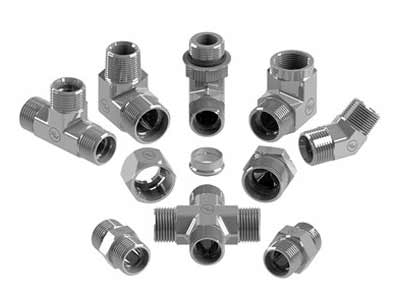 ---
ADAPTERS
Williams Fluidair carries a wide variety of threaded adapters in a variety of materials.
Installation of equipment or components with connection standard require the use of conversion adapters.
We stock adapters with connection standards from around the world including:
- NPT
- JIC (SAE 37º flare, SAE J514)
- O-ring boss (SAE o-ring, SAE J1926)
- O-ring face seal (SAE J1453)
- Flange
- BSPP (British standard pipe parallel)
- BSPT (British standard pipe taper)
- Metric
- JIS
We stock all of the most common conversion styles and sizes. Combinations to convert between all of these standard are possible through custom manufacturing.
Adapters are most commonly stocked in plated steel, stainless steel and brass. Other material available on request.
See Conversion Adapter Index
---
VOSS ZAKO FLANGE SYSTEM
Designed for high pressure and high flow hydraulics, the VOSS ZAKO flange system is specially designed for tube diameters up to 114.3 mm, and effortlessly withstands even the toughest conditions. The VOSS ZAKO flange line is available with square or standard hole patterns pursuant to SAE in 3000 psi or 6000 psi.
They are designed for application areas with maximum dynamic loads and special safety requirements. For instance, they are used in surface mining or hydraulic presses. The ZAKO system is also distinguished by high cost-effectiveness, because there is no need for welding work.
The installation of a ZAKO flange coupling is easy and safe to perform: The ZAKO ring is pressed into the tube with a pre-assembly device. It is thereby its own tool and remains in the flanged tube. Process errors caused by tool wear are thereby excluded. The flange coupling can be very easily uninstalled for maintenance or service work.